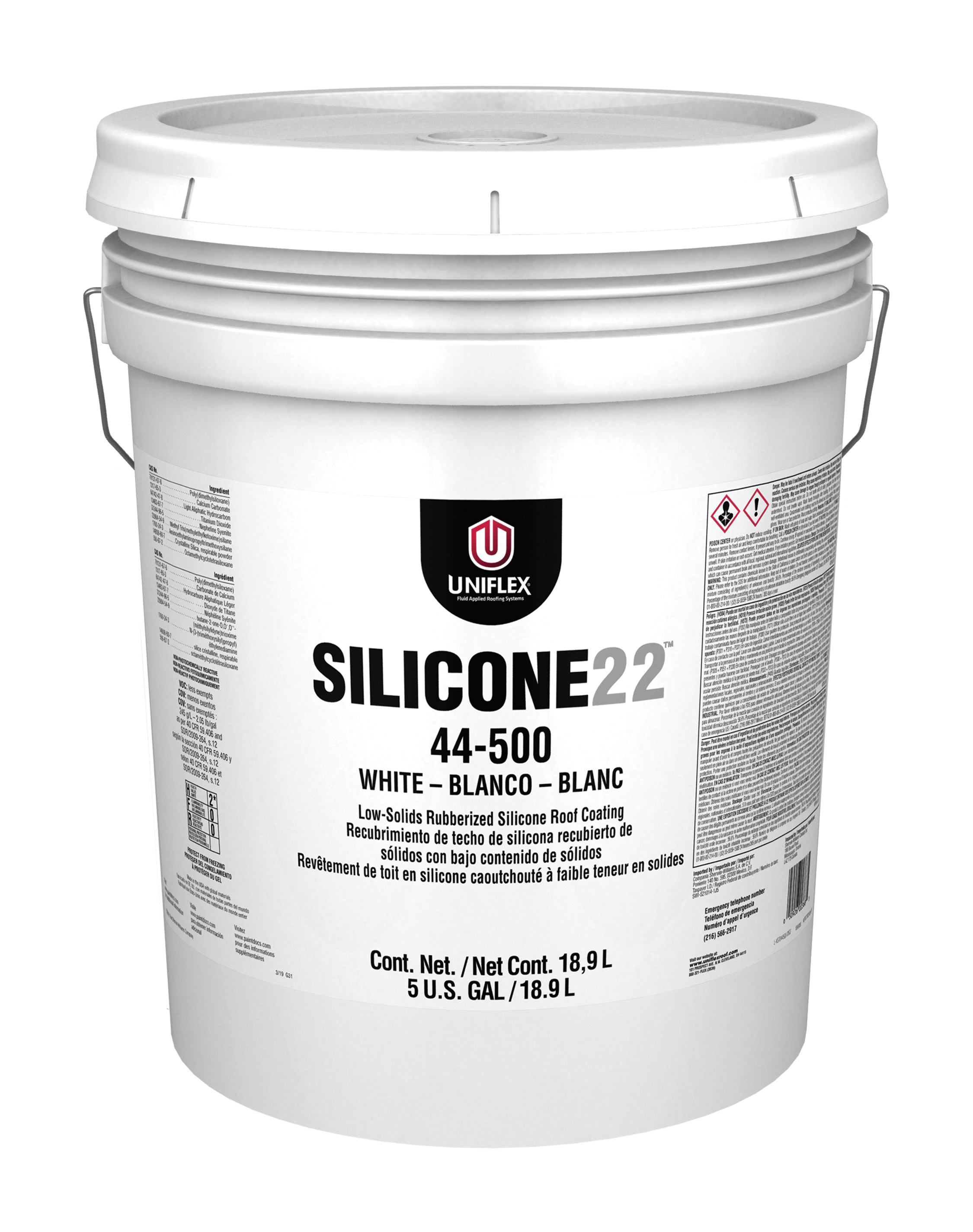 QUICK REFERENCE
Color:White
Vehicle Base:100% Silicone
Weight per Gallon:10.27 +/- .5 lbs.
Solids by Weight:80%
Solids by Volume:68%
Viscosity (ASTM D 562): 6667 cps
Dry Film Thickness: 22 mils (@ 5 gals 250 sq./ft.)
Dry Time

Exposure: 4-6 hours
Between coats: 24 hours
Full Cure: (@ 70℉, 50% relative humidity) 24 to 48 hours

VOC: ≤ 246 g/L
Flash Point: >142℉
Clean Up: 100% Virgin Mineral Spirits or Naptha
Silicone22™ Low Solid Rubberized Silicone Roof Coating White
Product Number: 44-500, 44500
---
UNIFLEX® Silicone22™ Rubberized Silicone White Roof Coating is a low-solids silicone rubber roof ideal for ponding water.
RECOMMENDED USES:
Metal, single ply, smooth BUR, APP, SBS, modified bitumen, polyurethane foam, cured concrete, existing asphaltic and elastomeric roof coatings and other approved surfaces.
NOT
 for use on roof shingles. EPDM rubber roofs must be primed with bonding primer designed for EPDM roofs. Other roof substrates including metal, asphalt or concrete may require primer before application. An adhesion peel test should be performed to determine if a primer is needed.  Asphalt-bleed blocking primer is recommended over asphalt substrates to limit staining and discoloration.
PERFORMANCE CHARACTERISTICS:
Elongation: 370%
Tensile Strength: 261 Psi
Tear Resistance (ASTM D 624): 23.7 LBS/Linear Feet
Permeance (ASTM E 96 Procedure BW) : 13.7 US Perms
PACKAGING:
Certifications and Approvals