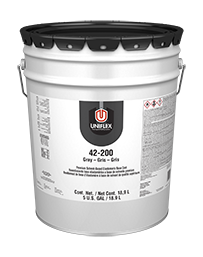 QUICK REFERENCE
Color: Gray
Vehicle Base: Modified Styrenic-Blocked Copolymer
Weight per Gallon: 10.3 lbs.
Solids by Weight: (ASTM D 1644) 47±2%
Solids by Volume: (ASTM D 2697) 40±2%
Viscosity @ 77° F (25° C): 115 ± 10KU
Dry Film Thickness: 6.4 mils (@ 1 gal./100 sq. ft. less surface absorption)
Dry Time

To touch: @ 77F 30 minutes-1hour
Between coats: 6-8 hours min

VOC: < 250 g/L
Flash Point: 72°
Solvent: Organic
Clean Up: Mineral Spirits, Xylene
Premium Solvent Based Elastomeric Gray Finish Coat
Product Numbers: 42200-28 / 42200-27 / 42200-20
---
UNIFLEX® Solvent Based Elastomeric Gray Base Coat is a solvent-based thermoplastic rubber coating system with superior adhesion. Designed to resist cracking and peeling in ponded water situations, UNIFLEX® Solvent Based Elastomeric provides excellent waterproofing capabilities. UNIFLEX Solvent Based Elastomeric Gray is intended as a base coat for UNIFLEX Solvent Based Elastomeric White Finish Coat, however it's UV stability will allow it to be used as a finish coat if a gray finish is desired.
RECOMMENDED USES:
Metal
BUR
Modified Bitumen
TPO
Hypalon
Urethane Foam
Other Approved Surfaces
Not Recommended over coal tar pitch, concrete, or EPDM.
PACKAGING:
275 Gallon Tote (1040.9 Liters)
55 Gallon Drum (208.2 Liters)
5 Gal Pail (18.9 Liters)
---
Certifications and Approvals